Well, with a bit of new year juggling going on around here I was always going to screw something up – and this was nearly it! The lovely crafty Sadhbh over at Where Wishes Come From is hosting a lovely new year link up called '14 from 14′ to recap on a year of blogging. My contribution almost didn't make it out of the 'Drafts' folder but at last, without further procrastination, delay or general faffing around, it is. The Busy Mama's '14 from '14'.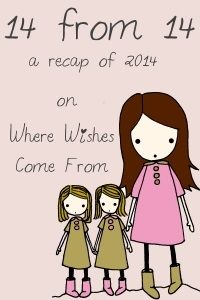 1. Most Popular Post:
Having done a changeover from Blogger to WordPress this Summer I effectively scrapped all my blog stats but I can say with (almost) absolute certainty that my most popular post was also my most silly.
It was this post about 'crafting against the odds' where I had to use my significant cunning to hide the fact that I had not gone birthday pressie shopping for my birthday-loving brother before finding myself trapped in a maternity hospital.  When life throws a spanner in the works, you have to use what you have – which for me was my age-old and slightly un-used engineering degree, maternity pads, tit tape, a bic pen and the contents of a sweet shop. Ladies and gentlemen, without further a-do, I give you (again) the birthday Sani-Basket.
A close second most popular is worth a mention – my very begrudging
School Daze
post. Reading it back a school term later, I'm amazed by how cross I was. Frankly I'm amazed I had the energy to be so cross.  Go me!
2. Favourite Post:
I think my favourite post was either my contribution to Learner Mama's Blog Linky
'10 Things I've learnt In Motherhood'
 or my own linky on
'Parenting Moments Gone By'
. I probably like them both because they are really about moving on – and even though I'm a woman who would love 10 babies, in truth, I'm done with three children and greatly looking forward to getting on with the small job of raising what I have! These were nice posts to write and even nicer to share as both linkies produced some really, really fantastic posts from friends in the
Irish Parenting Bloggers
.
3. Favourite Photo:
A long time ago I struck a deal with my privacy loving husband, who openly HATES both the internet and even the concept of a blog (but who manages to overcome both just long enough to enjoy the free Netflix package), not to use the kids photos. It can be hard to come up with nice photos of them that don't show their little faces but I was chuffed with this one of them out walking which captured the two little personalities perfectly and was a great fit for my
August post on poor little Yoda as her big brother got ready for schoo
l.
4. Best Adventure:
Starting the year as a four-some and ending it as a five-some has been an adventure in itself – albeit a messy one and with very erratic toilet breaks. In terms of family adventures though our favourite local one was definitely the
return of the vikings to Clontarf
and going further afield it was our family holiday in Wales. The holiday inspired this contribution to
Colourine's Wonderful
blog linky on
the wonders of holidaying with children
which seemed to ring a few bells with other exhausted / exasperated / delighted parents!
5. Favourite Craft:
Although the Sani-basket won the popular vote, my favourite craft this year was
the Purl Soho hat
. I loved this because it gave me a much-overdue opportunity to test out the Alpaca Wool from the wonderful
Hushabye Farm
, as well as to make a special baby pressie.  It also wins the popularity vote round here as I actually finished the piece without it languishing in the WIP basket. A rare feat indeed.
6. Favourite Recipe:
I'd really like to annoy Emily at The Nest and say
Coddle
was my favourite recipe of the year, but I'll reserve that honour for the
Chocolate Chip Brioche
that was a bit hit in July and ever since.  This delicious treat can definitely be blamed for my Summer ass-expansion-project. Well that and the Quality Street, and the cheese, and the wine.
7. Favourite Comment:
Like picking a favourite child, I know this is a no-no so Sadhbh is very bold to include it! Comments are lovely and a nice reminder – or an embarrassing nod, of the fact that people in the real world read the nonsense I write. They are lovely and always much appreciated.
That said I do have a favourite comment – or rather a favourite bunch of comments, or rather a favourite commenter. These stand out more for who they come from than anything else – namely my long-lost-but-ever-lovely friend Úna. Having been attached at the hip throughout secondary school we somehow managed to fall out of contact since college but, this year with our 20-year school reunion sending people chasing each other around Facebook, Úna discovered me hiding on the northside. Now happily married, mothering and living in Australia, Úna leaves a trail of 'likes', comments and shares that always remind me that, while my hair may be slightly better and my tummy even wobblier, I'm probably more like my teenage self than I care to remember! As is she, I hasten to add. And that is no bad thing.
8. My Favourite Celebration:
I love kiddie birthday parties and filling the house with kiddies and grownups scoffing cake and buns.  Spidey's fifth birthday last Summer was was our first party out of the house as we took the easy option and headed to an open farm with a picnic in tow. The picnic was a winner and featured in Dairy Free Kid's 'What's in Your Picnic Basket' linky with the recipe for my all-time favourite Chickpea Rolls following slightly later, as usual!
9. My Best Move:
I at last got my skates on a left my fledgling blog on Blogger and hauled ass over to WordPress and a self-hosted site. In blogging terms this was a big and brave move. For the rest of the world it's phenomenally boring so I'll just do a quiet 'yay' here in the corner.
10. My Favourite Freebie:
A year of unpaid maternity leave has a girl counting her pennies so the blog freebies are often a treat. I've had obscure freebies on the blog this year but out of the baby things I have to say our Stokke highchair rocks! If they even knew what a blog was, the kids would no doubt say Netflix is their winner – and in fairness it's been fab. But I think my favourite freebies have been the books with Jamie's Comfort Food and the ICA Book of Crafts coming a joint first.
11. Best Blog Moment:
It's not strictly bloggy but blog-related socialising and boozing was a lovely feature of the year with the girls from the Irish Parenting Bloggers showing themselves to be great craic during daytime and nighttime sessions. Though I missed the penultimate night at the Irish Blog Awards – which I should hasten to add gave me the dubious shock / honour of shortlisting my blog in the lifestyle category (causing a momentary promotion to guru status), I have good reason to think that any future nights out with this gang will be great fun.
12. Worst Blog Moment:
Other than a reference to 'beastfeeding' (rather than 'breastfeeding') helpfully spotted by my friend Sarah, I've avoided doing anything astonishingly stupid such as posting naked pictures of myself so happily I'll leave this one (almost) blank.
13.  My Favourite Title:
I am so bad at picking titles for my posts that when I was changing over the blog and re-categorising posts I had to actually read them to figure out what the hell they were about. I'm trying to get better at these but still find them hard sometimes – mainly because I am a very long-winded person who likes taking her time to spit things out. I swear this is why I'm also terrible at Twitter. By 140 characters I've barely warmed up.
In terms of titles however, the one that got away but is my favourite in my head at least, was a post I'd drafted in my head about my hatred of Dora the Explorer. It was entitled Dora the Whora, after a great line in Sons of Anarchy. I reckoned it might not go down so well with the Netflix Streamteam so, for now at least, it remains in my draft folder.
14. What My Blog Did For Me In 2014:
As time rolls on and I spout more and more nonsense I certainly think my blog is becoming more me. By that I mean less 'Polly-anna with her crafts, cooking and kids' and more 'wrecked-foul-mouthed woman with her crafts, cooking and kids'. Surely that's a good thing?
So that's it. Sayonara (once more) 2014.
To everyone who reads – thank you. And to those who have let me know that their work filters don't let my rude language into corporate HQ, you have made my little rebellious streak happier than you know!
For more bloggy retrospectives fraturing some of my favourite bloggers best bits from 2014 check out Sadhbh's great linky here:
http://www.wherewishescomefrom.blogspot.ie/2014/12/14-from-14.html